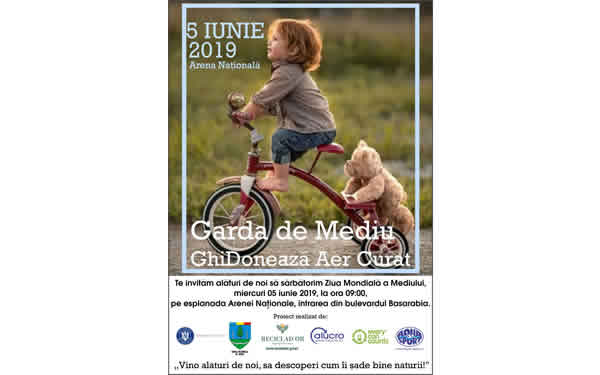 The United Nations Environment Program (UNEP) recommends, every year, the theme of World Environment Day and the theme for 2019 invited us to analyse how we can make changes in our daily lives to reduce the air pollution we produce and to counter global warming and its effects on our own health.
On June 5, 2019, on World Environment Day, Reciclad'OR in partnership with the Ministry of Environment and the National Environmental Guard launched the action "Let's Donate clean air", though which the company representatives, gave green to reducing the carbon footprint, in order to improve the attention to the global problem of air pollution ".
During the action, hundreds of students (grades 0 – IV) from several schools in the capital, competed on scooters, skateboards and rollers in a competition that included speed and skills tests but also interactive activities on ecological topics. The action took place on the Esplanade of the National Arena and was part of the series of events organized within the project "Commissioner in the making", initiated by the National Environmental Guard and Reciclad'OR in order to form a responsible attitude of the young generation towards the environment.
Through the project, Reciclad'OR together with the Ministry of Environment and the National Environmental Guard, aimed to combine both awareness and education about this pressing environmental issue by: developing motivation and responsibility among students, parents and the whole school communities, for health and environmental protection, active involvement of students in actions for separate collection of packaging waste, creative recycling projects and waste recycling development of ethical civic behavior and biodiversity protection skills, awareness of the negative impact of pollution air on the quality of the environment, the formation of nature conservation skills, the formation of premises for understanding human-environmental relations and the interdependence between quality of life and the environment, recognizing the negative impact of human neglect on nature.
https://reciclador.green/wp-content/uploads/2020/10/afis-1.jpg
375
600
Brinzea Marius
https://reciclador.green/wp-content/uploads/2020/08/logo-reciclador.png
Brinzea Marius
2020-10-02 13:20:20
2020-11-02 12:37:25
Let's donate clean air